A Safe and Easy Way to Regain Confidence

AREOLA MEDICAL MICROPIGMENTATION
Areola Medical Tattooing can help both men and woman achieve a more balanced shape and color of the areola or nipple with this advanced technique. Areola Micropigmentation can also change the lives of those who have battled with breast cancer and are left without an areola or nipple due to mastectomy, as well as scarring from surgery, or those with faded and misshapen areolas.
WHICH TECHNIQUE IS USED IN AREOLA TATTOOING? 
Areola and Nipple Pigmentation is an advanced artistic technique in which pigment is skillfully infused into the skin while carefully tracing over the pre-drawn template that has been customized for you during your consultation. A combination of shading and coloring techniques is used to achieve a natural and 3D effect, making the nipple look like it is protruding from the areola. We will expertly colour match your existing skin tone or create a new areola to ensure a natural finish. If you only require one areola pigmentation, we will colour match to your existing areola to ensure symmetry is achieved.
SCARS FROM BREAST REDUCTION & AUGMENTATION
This Areola Pigmentation procedure minimizes the appearance of breast scars and improves areola irregularities, restoring them to a natural shape and symmetry.
ENHANCEMENT FOR ENLARGEMENT & DEFINITION
This Areola cosmetic tattooing enhancement is also for men whose areola or nipple is pale, lacks definition, is too small or asymmetrical. Our treatment can help you achieve a balanced shape with enhanced colour and incredibly natural definition.
PIGMENTATION PRE-& POST GENDER REASSIGNMENT SURGERY 
This Areola Pigmentation procedure for gender reassignment, helping either to feminize the areola or creating a new areola and nipple. This will help you achieve the look you were born to have.
WHO IS THE PERFECT CANDIDATE FOR THIS PROCEDURE?
– Men and women who have undergone surgery
– Breast Cancer Survivors
– Patients with Mammoplasty or Reduction surgery
– Individuals looks for areola colour enhancement
– Looking to enlarge the nipple and add symmetry
– Individuals looking to correct asymmetrical areolas
At Unyozi Beauty, we use the latest techniques in Micropigmentation. We invite you to schedule a complimentary consultation to address all of your concerns and questions.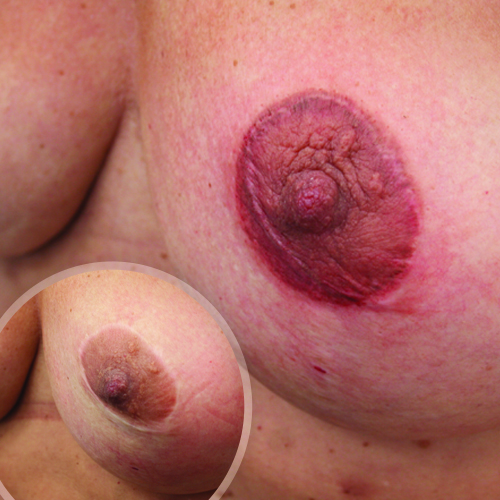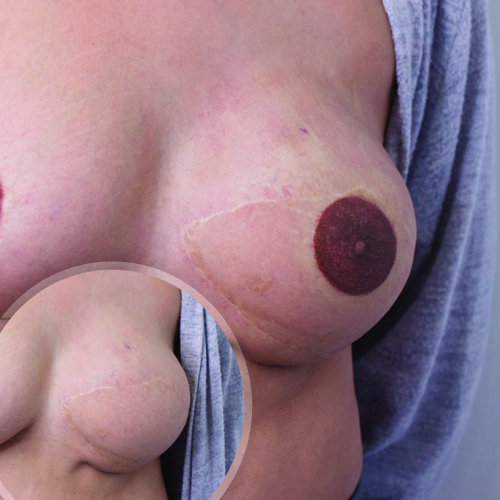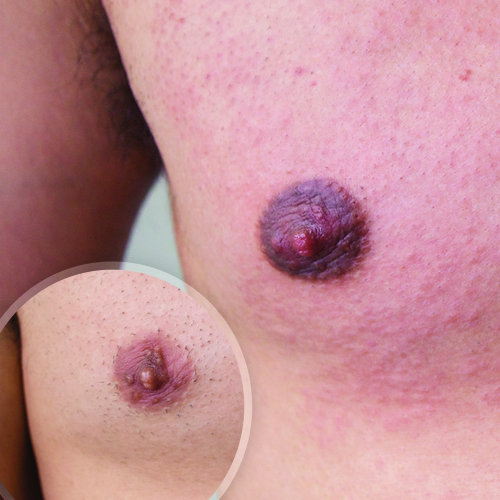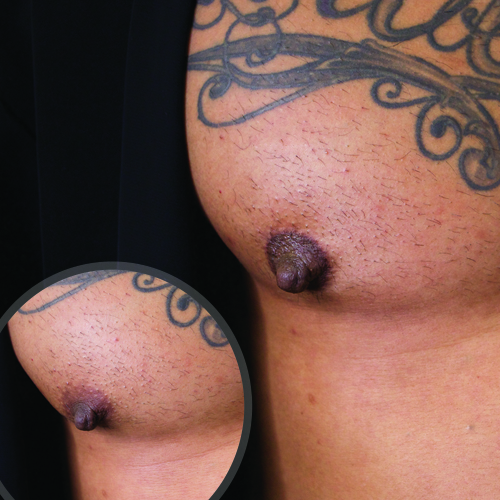 Read more information about what to expect from Areola Medical Micropigmentation.
IS AREOLA MICROPIGMENTATION THE SAME AS COSMETIC AREOLA RECONSTRUCTION?
No, this procedure is not the same as cosmetic areola reconstruction. This procedure uses pigment to create the areola shape as opposed to tissue in the case of cosmetic treatments. This procedure is executed by injecting the pigment into the skin, creating the illusion of a nipple without any 3D dimension using surgery and tissue. Nipple reconstruction is a surgical procedure where skin is grafted from a donor site and then used to reconstruct the nipple.
HOW LONG DOES IT TAKE?
Areola Micropigmentation can take between 2 - 3 hours and typically takes 3 sessions. Camouflaging of breast scars generally takes 4 sessions and about an hour per treatment.
WHAT HAPPENS DURING THE AREOLA PIGMENTATION?
During your initial consultation, you and your specialist will discuss your desired result including areola shape, size, placement and skin tone. During your first appointment your specialist will perfectly match the pigment shade that suits your skin type the best and then skillfully infuse the pigment color into the skin over the customized design.
HOW MANY SESSIONS WILL I NEED?
Areola / Nipple Micropigmentation is a custom artistic design and the aim of this procedure is to create an areola that is as realistic as possible. Therefore, it may take 3 to 4 sessions until the desired result is achieved.
WILL IT HURT? +
We want you to be completely comfortable during your treatment. We apply a topical numbing agent prior to the procedure. We frequently check-in with you before and during the treatment to ensure any discomfort is being managed appropriately. This procedure should not hurt and discomfort should not rate more than a 3-5 out of 10.
WHAT KIND OF TRAINING IS REQUIRED BY THE TECHNICIAN? +
All of our Medical Micropigmentation treatments are conducted by fully qualified, certified and insured professionals with extensive experience. You can be completely assured that our specialists have international training using the highest quality equipment and latest techniques in Micropigmentation.
CAN I GO BACK TO WORK AFTER MY TREATMENT? +
Absolutely, typically the treatment area may be slightly red for 72 hours post-treatment.
DO YOU PROVIDE AFTERCARE? +
Yes – to ensure the highest quality of treatment is offered, a complimentary follow-up treatment is included. We want our clients to have the best result and so we make sure that you recover properly from the treatment.