Toronto's Cosmetic Tattooing Clinic specializing in Permanent Make Up and Scalp Micropigmentation.
PERMANENT MAKEUP & SCALP MICRO
Meet the owner of unyozi beauty
Shirley Marin is a head Artist and owner of Unyozi Beauty, a Permanent Makeup & Scalp Micropigmentation clinic that performs a variety of  Cosmetic Tattooing Treatments that enhance your natural features and boost your confidence. 

As Toronto's Leader Micropigmentation Clinic specialized in Cosmetic Tattooing and Paramedical Tattooing, Shirley has treated over 5,000 clients helping them build their confidence through her skills. No matter what is your background, skin tone or age. She is simply the best at what she does! 
Stop by her beauty clinic and check out what Shirley and her team experts has to offer!
Let's chat ! Come to the clinic
AWARD FINALIST PERMANENT MAKEUP OF THE YEAR 2018 & 2019
Shirley has become one of the most recognized Micropigmentation Artists in Toronto. She is entering her 7th year since she founded Unyozi Beauty.

Shirley was born in Peru and her experience revolved around the hairstyling industry for over 20 years. Shirley lived in Spain for around 10 years and she sold her successful Hair Studio company, one of the top Hair Studios in Barcelona with steady revenue. After this, Shirley became involved in Micropigmentation when she moved to Canada in 2014 and she is now fully committed since opening her clinic in Toronto.
Today Shirley offers her clients who visit her clinic an industry leading services of Permanent Makeup (PMU) includes the usual treatment for Eyebrows , Lips and Eyeliner you see today. Medical Micropigmentation includes Scars Camouflage, Vitiligo Re-pigmentation, Areola Pigmentation and Scalp Micropigmentation. Treating cases like male pattern baldness and hair thinning solutions for women.
She pours her passion into each and every client she works with. Every client is unique to her. Shirley's reputation and talent in Micropigmentation experience makes her clinic in Toronto the number one choice.

PERMANENT MAKEUP TREATMENTS
PERMANENT MAKEUP CORRECTION
MEDICAL MICROPIGMENTATION
OUR RESULTS SPEAK FOR THEMSELVES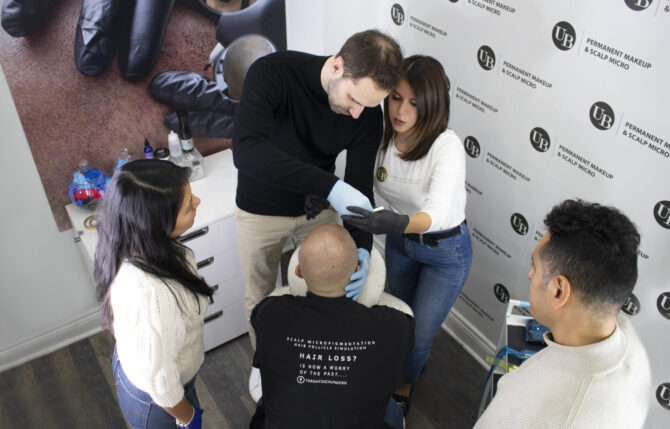 Improve your Scalp Micropigmentation techniques and learn new SMP techniques from Shirley, a Leading Cosmetic Tattoo Artist. 
No hassle! Finance your treatment today!
You can get the credit you deserve.
Now you can afford to look your best.
apply online in a few minutes
How to get to the clinic?
 The clinic is located in Toronto's Fashion District, just steps away King St. West and Portland Street. The clinic is 4 stops from St. Andrew station 504A and 504B King street cars.

There are many different public parking lots located around the clinic.