At Unyozi Beauty we are proud to offer Areola Medical Micropigmentation and raise the awareness of the importance of "Areola Cosmetic Tattooing" for breast cancer survivors. This cosmetic tattooing procedure can change the lives of breast cancer patients after mastectomy gives breast cancer survivors the option to have a realistic-looking nipple without having to undergo another surgery. Areola Medical Micropigmentation allows for a customized color and creates the entire new areola and nipple through cosmetic tattooing. Read more about " 3D Areola Cosmetic Tattooing "
How we stopped looking at ourselves in the mirror because we lost our confidence. I'm so thrilled to be able to help women who have had breast cancer through my skills in Medical Cosmetic Tattooing. If you are ready to build your confidence I would be more than happy to help you get your self-confidence back.
WHY UNYOZI BEAUTY?
Shirley Marin is a talented technician and is getting the recognition for helping her clients achieve a natural enhancement because she utilizes a variety of different application techniques, sensibly tailored to each patient, she works with is unique for her. After training and licensed in Areola Medical Micropigmentation in Brazil. Shirley got so passionate about "areola tattooing" and decided to go abroad traveling to Haywards Heath-UK to improve and perfect the techniques acquired. She successfully completed a master class in Areola Pigmentation and Scars Camouflaging. This means she can also work to improve the appearance of any other scars you may have after surgery.
WHAT HAPPEN DURING THE PROCEDURE?
Prior to the procedure, you'll meet up with Shirley for a consultation. During that time, you will discuss size, placement, and pigment color. Shirley wants to see the area she will be working on, in order to determine the best way to proceed and sessions needed too. She will create a plan based on your preferences, variables like scars patterns, amount of scar tissue to be cover, and skin thickness. Previous to the first session, Shirley may advise you to undergo a skin allergy test "Patch Test" at least 48 hours before carrying out with the procedure to make sure you are safe to undergo areola tattooing.
HOW MANY SESSIONS WILL IT TAKE?
Areola Micropigmentation is a careful procedure and can take several visits to obtain the desired result. Typically takes 3 sessions but camouflaging of breast scars generally could take up to 4 sessions. Time scales for future top-ups varies from person to person.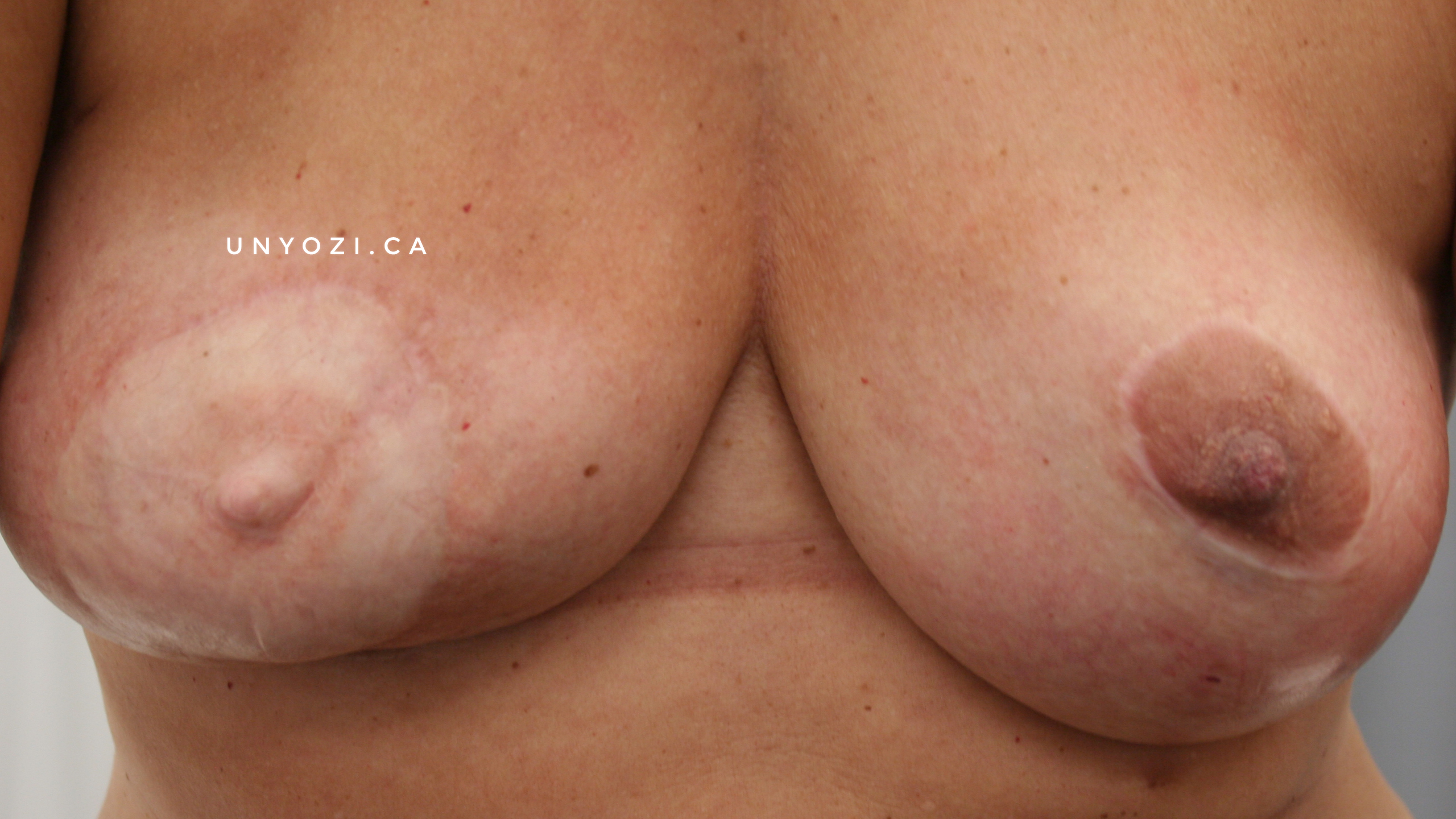 The reasons for considering for areola pigmentation have more to do with restoring a youthful look and feeling like yourself again.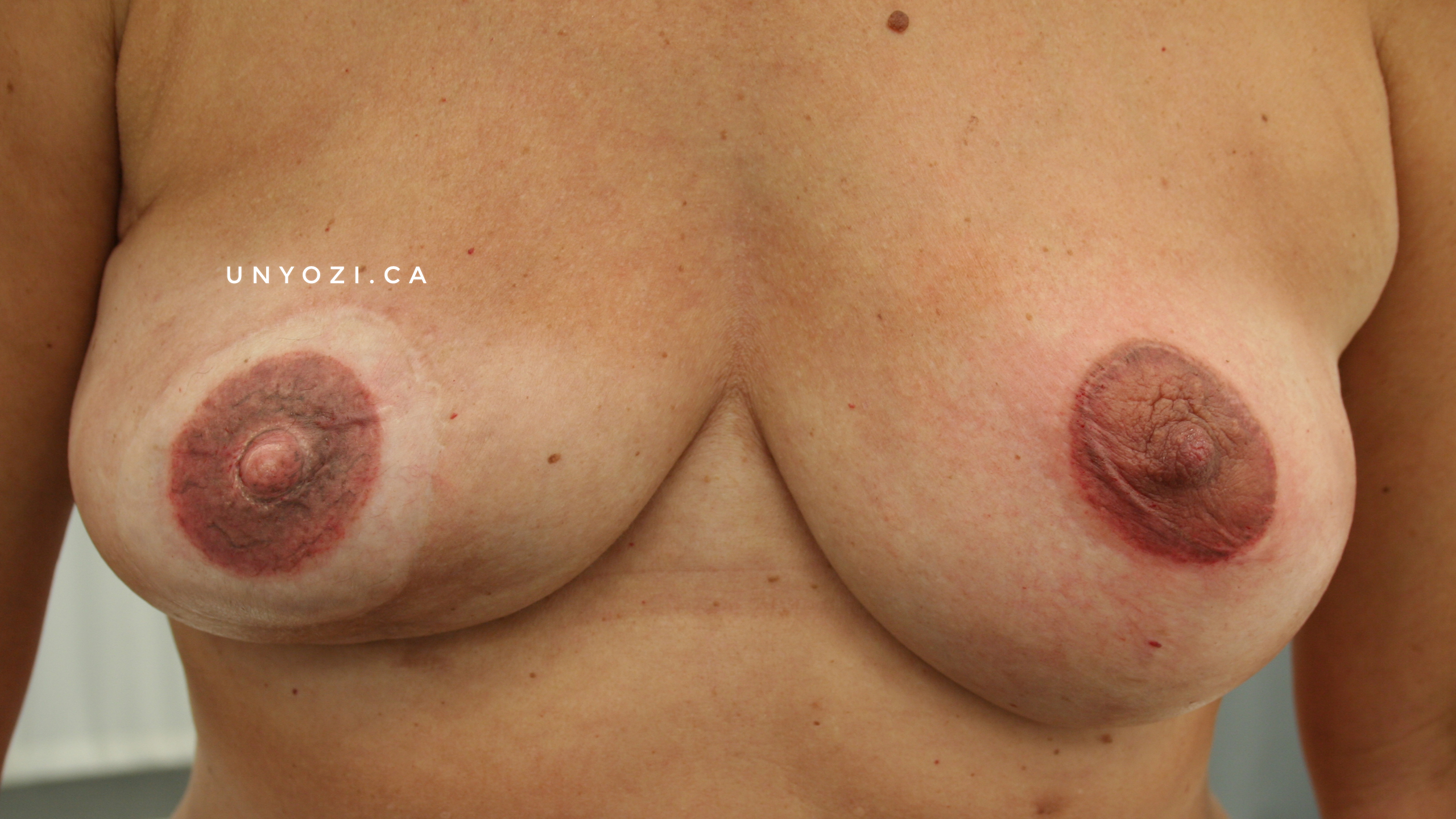 At Unyozi Beauty-Permanent Makeup & Scalp Micro , we use the latest techniques in Micropigmentation, you are welcomed for a complimentary consultation to address all your concerns and questions you have are fully addressed by our Master Technician. Please contact us at toronto@unyozi.ca or call the clinic 416-366-4794