Say Hello with confidence with SMP

WHAT SCALP MICROPIGMENTATION CAN DO FOR YOU?
Scalp Micropigmentation (SMP) is the ultimate non- surgical hair loss solution for both men and women.
It is proven to be a great alternative to hair restoration surgery.  At Unyozi Beauty, a specialized clinic in Micropigmentation, we work with patients to reduce their fear against hair loss and we take them on a journey that includes education about the options, advice and support in making choices and ultimately being able to face the world more positively and confidently. SMP is a safe procedure and most importantly leaves no scarring which is not possible with other hair loss treatment options.
SCALP MICROPIGMENTATION FOR MEN
While SMP can work extremely well to add density to longer hair, SMP can also provide a full and youthful looking head of hair regardless of the current hair loss situation.  SMP is an incredible life changing procedure that uses the art of pointillism technique to inject micro size pigments into the scalp in order to create the illusion of hair follicles. Scalp Pigmentation (SMP) is one of the best alternatives to restore receded hairline, fill in thinning hair, disguise bald patches and even conceal Hair Transplant Scars (FUT – FUE). SMP can rejuvenate both hairlines reversing the effects of baldness and thinning hair which can have a major impact on an individual's self- confidence.
No one will notice the cosmetic tattooing and you can return to work the day after your procedure and people will think you look great.
THINNING HAIR SOLUTION FOR WOMEN
Scalp Micropigmentation for female can significantly improve and help women disguise scalp shine caused by thinning hair by mimicking hair follicles and creating the illusion of additional density through Scalp Micropigmentation to the areas of the scalp with missing hair or bald patches reducing the visibility of the scalp.
THE BENEFITS OF SCALP MICROPIGMENTATION:
– Restore your hairline achieving a youthful looking.
– Camouflage (FUE – FUT) scars from hair transplant.
– Achieve the illusion of a close buzz cut hairstyle.
– Conceal scars from injury, burns or birthmarks.
– Disguise the appearance of thinning and hair loss.
– Camouflage permanently alopecia.
DON'T WAIT ANOTHER DAY TO CAMOUFLAGE HAIR LOSS!
Visit us at Unyozi Beauty if you are struggling with hair loss. Shirley Marin personally wants you to know that you do not need to wait another day to take the first step towards looking and feeling your best. She understands that this is an incredibly important decision and wants to do everything that she can to help you make an informed and confident decision.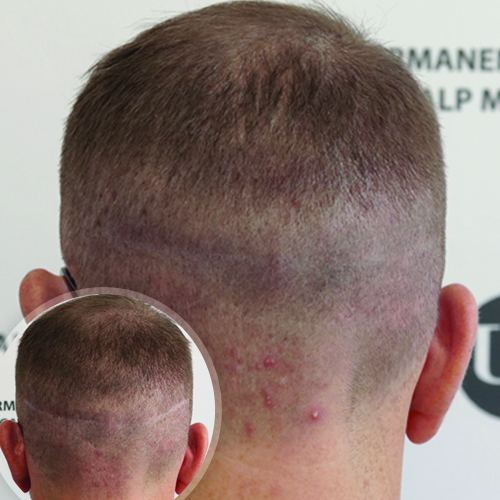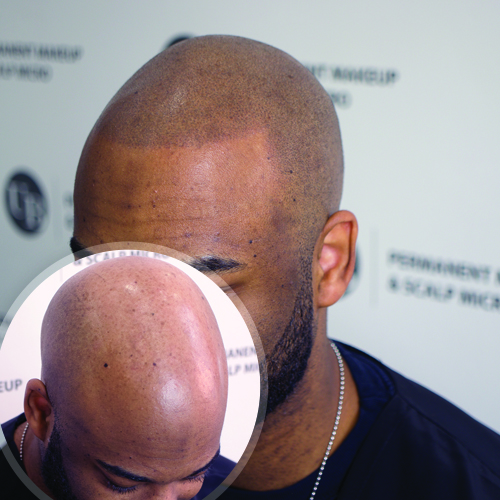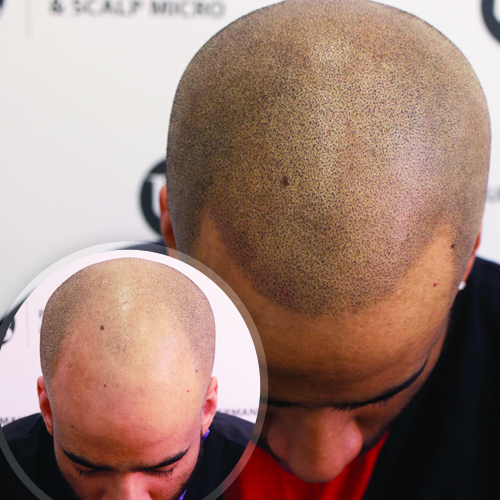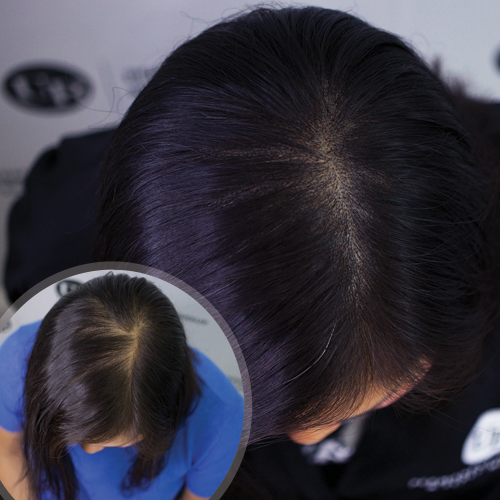 Read more information about what to expect from Scalp Micropigmentation.
HOW LONG DOES THE PROCEDURE TAKE?
A:Each session will take between 2-4 hours and multiple appointments are generally required depending on the treatment area.
WHAT CAN I EXPECT DURING THE CONSULTATION?
A:During the Scalp Micropigmentation consultation, our specialist will assess and analyze your hair growth to see if you are suitable candidate for the SMP treatment. Your treatment specialist will walk you through the procedure and healing stages. The consultation is important to understanding the results you want to achieve and create a plan of action that's right for you. During the consultation, the specialist will draw out your natural hairline and work with you to create a look based on your desired results.
WHAT HAPPENS DURING THE SMP PROCEDURE?
A:Our SMP Specialist will skillfully infuse a series of micro-points of pigment into the scalp which produce the look of short hairs. The specialist will carefully pay attention to the follicular hair size and density of your natural hair growth to ensure you receive a consistent appearance across the head in order to achieve natural results.
WILL IT HURT?
A:It hurts much less than having a regular tattoo, and certainly a lot less than a hair transplant. We are able to numb to scalp, although the majority of men are brave to manage without. This procedure should not hurt and discomfort should not rate more than a 5 out of 10.
WHAT KIND OF TRAINING IS REQUIRED BY THE TECHNICIAN?
A:All of our Medical Micropigmentation treatments are conducted by fully qualified, certified and insured professionals with extensive experience. You can be completely assured that our specialists have international training using the highest quality equipment and latest techniques in Scalp Micropigmentation.
CAN I GO BACK TO WORK AFTER MY TREATMENT?
A:Absolutely, typically the treatment area may be slightly red for 72 hours post-treatment.
HOW MUCH DOES THE PROCEDURE COST?
A:Scalp Pigmentation prices vary depending on how much of the scalp needs to be treated. This will be determined during your consultation so the specialist can assess your specific case.
DO YOU PROVIDE AFTERCARE?
A:Yes – to ensure the highest quality of treatment is offered, a complimentary follow-up treatment is included. We want our clients to have the best result and so we make sure that you recover properly from the treatment.