Harmonious, Full and Perfectly Shaped Brows

EYEBROW PERMANENT MAKEUP
Full, perfectly shaped and harmonious eyebrows make the face look vibrant and youthful. Whether your eyebrows have thinned with age, are over plucked, asymmetrical, or are excessively fair, have gaps that need to be covered, or if you simply want to improve their shape and look or give yourself brows that are entirely new, eyebrow semi-permanent makeup can help you achieve your designed shape and look. Both Microblading and Nano-Pigmentation are fantastic options to enhance the eyebrows for both men and women.
EYEBROW MICROBLADING OR NANO-PIGMENTATION?
Both of these methods are under the umbrella of Eyebrow Semi-Permanent Makeup, the difference between these methods is that Eyebrow Microblading uses mini micro blades that are inserted into a hand tool. Whereas, Eyebrow Nano-Pigmentation uses mini Nano needles that are inserted into a digital machine.
WHICH ONE IS THE BEST?
During your consultation, your Permanent Makeup Specialist will advise you on the technique and treatment that will help you achieve your desired look. At Unyozi Beauty, we tailor every treatment to your unique facial features, and skin tone. The following techniques can be performed either using Microblading or Nano-pigmentation and unique stroke patterns for both men and women.
The following techniques can be performed using either Microblading or Nano-pigmentation.
FEATHERING EYEBROW
This technique entails the injection pigment into the skin using either Microblading or Nano-Pigmentation Feathered Eyebrows to draw individual hair strokes. This creates the illusion of a fuller brow and can correct minor imperfections. Both of these methods mimic the brow hair to give a natural look – the beauty of this method is you still have the option to pencil your eyebrows in, if you would like to have a bolder makeup look.
POWDER & SHADING OMBRE EYEBROW
This method uses a combination of techniques to add depth using shading. During this treatment, the eyebrow is contoured with the pigment creating a shaded Ombre effect that will give you a beautiful powdery finish as your eyebrows were pencil in softly. This Ombre or soft Shading Eyebrow technique is recommended for those, who have more than a few minor imperfections.
3D EYEBROWS
This Microblading or Nano-Pigmentation 3D Eyebrow creates definition to give you a fuller and thicker look. If you want an extremely natural result imitation hair growth with fine lines and filling in the gaps. This technique is recommended for those who have eyebrows that are 70% full of only a few flaws to mend.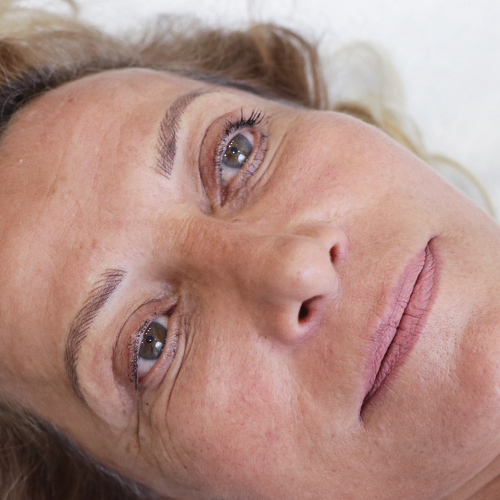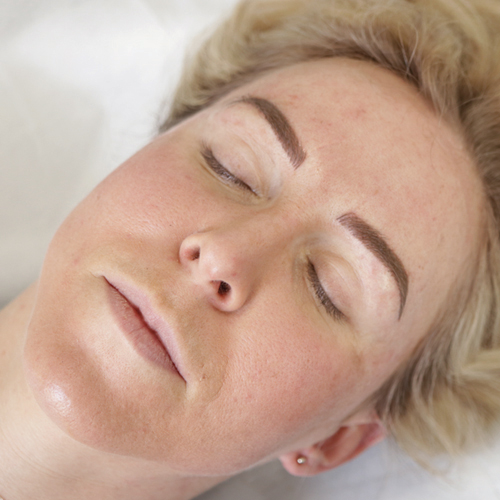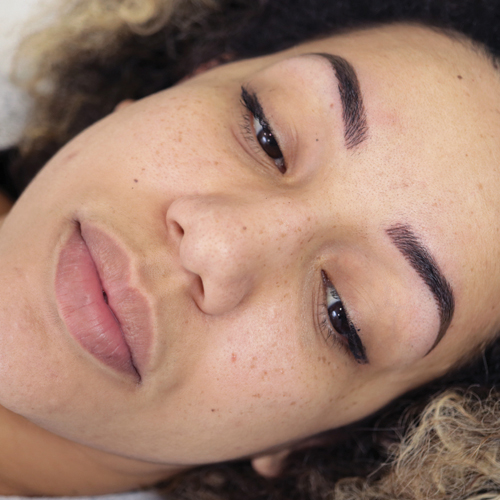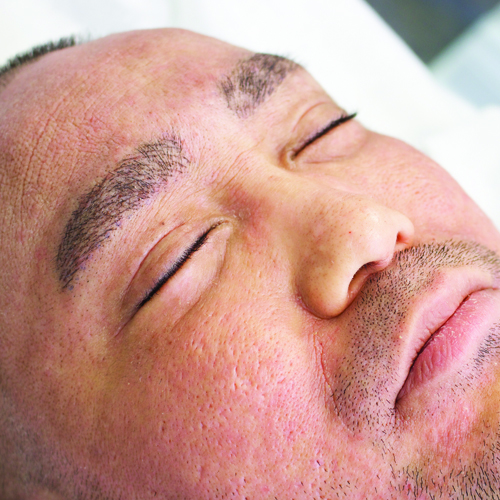 Read more information about what to expect from Eyebrow Semi-Permanent Makeup.
HOW LONG DOES IT TAKE?
Any eyebrow treatment takes around 2 hours. This includes the consultation and all three stages of the treatment.
WHAT HAPPENS DURING THE EYEBROW PROCEDURE?
During your initial consultation, you and your permanent makeup specialist will discuss your areas of concern and what you would like to enhance. Your specialist will look at everything from your lifestyle, hair, skin tone and facial features in order to determine what pigments to use and how best to achieve your desired look. Afterwards your stylist will show you your new look and give you the full instructions for the best healing.
WILL IT HURT?
We want you to be completely comfortable during your treatment. We apply a topical numbing agent prior to the procedure. We frequently check-in with you before and during the treatment to ensure any discomfort is being managed appropriately. This procedure should not cause any pain, but the degree of tolerance varies from person to person, with heavy smokers in particular being a little extra sensitive. This procedure should not hurt and discomfort should not rate more than a 2 out of 10, if that.
IS THIS TREATMENT THE SAME AS A TATTOO?
Permanent Makeup and Micropigmentation procedures are not same as a tattoo. The specialized techniques used at Unyozi Beauty for Semi-Permanent Cosmetics are often referred to as "Micropigmentation". We use modern equipment specifically designed for the cosmetic and medical industry, which are VERY different from conventional tattoo machines. Additionally, we use pharmaceutical grade, hypoallergenic pigments. Micropigmentation treatments last around 2 to 5 years and is executed using strict health and safety protocols.
WHAT KIND OF TRAINING DOES THE STYLIST HAVE DONE?
All our Micropigmentation Treatments are conducted by fully qualified, certified and insured professionals with experienced. Our Artists have an extensive international training. By choosing us, you will receive a substantial enhancement and end up with a natural look. Regardless of what it is that we do at Unyozi Beauty, you will always receive the best service through the highest quality of equipment and the latest techniques in Micropigmentation.
WHAT IS THE RISK OF THIS TREATMENT?
Eyebrow Semi Permanent Makeup is a very low risk treatment, as long as our aftercare instructions are strictly followed. If you do not follow the aftercare procedures outlined to you by your specialist there is a small risk of infection, color loss and color pigment change in the event of other products being applied to the treated area. By sticking to our aftercare plan you'll be able to enjoy your new eyebrows without any complications.
WOULD I BE ABLE TO GO BACK TO WORK STRAIGHT AFTERWARDS?
Absolutely, you can go straight back to work if you'd like to. Typically, the area around the treatment area will be slightly red with a small amount of discomfort lasting a few hours. However, in most cases our clients are ready to go back to work the same day, and completely recovered within a week.
DO YOU PROVIDE AFTERCARE?
Yes – to ensure the highest quality of treatment is offered, a complimentary follow-up treatment is included. We want our clients to have the best result and so we make sure that you recover properly from the treatment.
WHO MAY NOT BE A CANDIDATE FOR THIS PROCEDURE?
Active skin disease or infection
Hypo & Hyperthyroidism
Pregnant or breastfeeding
Bleeding Disorders
Hemophilia
Individuals with heart conditions
Individuals prone to keloid scarring
PLEASE INFORM YOUR SPECIALIST IF YOU ARE TAKING ANY OF THE FOLLOWING MEDICATIONS:
Accutane
Retin –A
Triflusal
Clopidogrel
Cilostazol
Triclopidine
Vorapaxar
Coumadin
Dipydamole