Your opportunity to start over

SMP (also known as Scalp Tattoo, Hair Tattoo, Hairline Rejuvenation, Scalp Pigmentation) is unequivocally considered the best non-surgical solution to camouflage hair loss for both men and women. SMP is designed to combat the appearance of a thinning head of hair and the goal is to make it look like you have very small hair follicles present.
Scalp Micropigmentation is achieved over multiple sessions (3 to 4 sessions) for optimal results in order to eliminate any signs of hair loss. Unfortunately, at times Scalp Micropigmentation needs to be corrected and removed due to substandard results from previous technicians.
The most comment problems for botched scalp tattoo include:
• Oversized deposited dots that don't resemble real hair follicles.
• Excessive pigment fading and pigment migration, usually resulting in a bluish hue leading to poor hair tattoo results.
• Poor blending the SMP with the existing real hair.
• Unnatural hairlines that don't suit your features.
• Oversaturation on the front hairline that looks like a "draw on"
WHY USE LASER TO REMOVE FAILED SCALP MICROPIGMENTATION?
In order to correct your existing SMP done somewhere else, we need to eliminate the pigment because we cannot work on the skin with blowouts. At Unyozi Beauty, we want to do things right and quality means doing it right from the beginning, so this means removing the existing pigment to start a new SMP treatment. We understand that when you first had the idea of getting Scalp Micropigmentation, you probably never thought you would be looking to remove it one day.
Please be diligent in your research and who you choose to work on your scalp. Don't forget this is a cosmetic tattooing procedure.
HOW SCALP TATTOO REMOVAL WORK?
Unyozi Beauty uses only the highest quality lasers to provide tattoo removal services to the Toronto area. Using a highly concentrated laser, this powerful yet gentle laser produces short pulses of light that target the tattoo pigment thus reducing any damage to the surrounding skin.
We are operating two lasers: MediLite4 and Spectra laser, both top contenders in the market. Spectra laser recently became the standard go to for tattoo removal treatments across the world. Therefore, we are able to safely remove most SMP with 2 to 3 sessions. The laser shatters the pigment particles to allow your lymphatic system to remove the particles from the area. To achieve the best results, a gap between the sessions is very important as it gives your body time to do what it does best!
Body tattoos are generally deeper within the skin and more saturated with pigments therefore these will take longer, between 7 to 10 sessions is an estimate.
LASER SCALP MICROPIGMENTATION REMOVAL
At Unyozi Beauty, we specialize in scalp micropigmentation removal and fading regular tattoos too. We use the laser as the most effective method for the removal and correction of scalp micropigmentation (SMP). We can remove, correct or fade a part you wish to fix, like the hairline or the entire head. If you are unhappy with the way your SMP turned and looking to correct your hair tattoo, we need to see you for a consultation to determine whether full removal fading or correction is required.
If you would like to discuss your Micropigmentation or Permanent Makeup correction, get in touch for a free consultation where one of our specialists will carefully analyze your case and let you know the best solution to achieve the results you are looking for.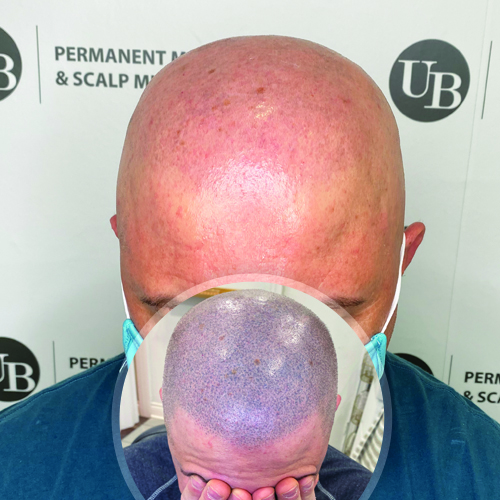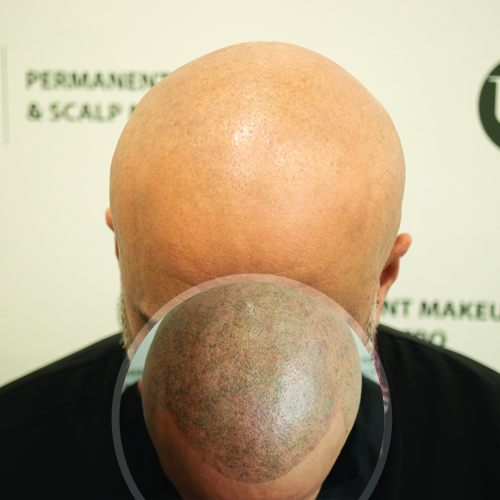 Read more information about what to expect from Laser Removal.
How long does the procedure take?
Each session will take between 30 minutes to 1 hour and sessions will all depend of the complexity of your existing hair tattoo, ink colour used, tattoo depth, tattoo age and skin colour and the area you are looking to treat whether it is just the front hairline or the entire head.
How many sessions should i expect?
Unfortunately, tattoo removal can be a frustratingly slow process. Just like no hair tattoo, the time period for scalp micropigmentation removal will vary from person to person. Several treatments may be needed before your existing hair tattoo fades enough to no longer be seen. If you are looking to correct your existing scalp micropigmentation for a new SMP treatment, a minimum of 2 to 4 sessions 2 months apart between each session might be needed. After this, scalp micropigmentation laser removal is complete. We can start with a new SMP treatment once the skin has healed properly.
What can i expect during the consultation?
During the Scalp Micropigmentation removal consultation, our specialist will assess and analyze both pigment migration and saturation to recommend the amount of sessions needed. Your treatment specialist will walk you through laser tattoo removal treatment and healing stages. The consultation is important to help us understand the results you want to achieve and create a plan of action that's right for you.
Will it hurt?
Scalp Micropigmentation removal typically does involve some level of pain. It feels like a stinging sensation as an elastic band been twanged against the skin. We apply numbing cream beforehand and icepack during the session to reduce the discomfort of the laser removal treatment.
Can I go back to work after my treatment?
Absolutely. Typically, the treatment area may be slightly red for 24 hours to a maximum of 72 hours post-treatment, especially on light skin tone.
How much does the procedure cost?
At Unyozi Beauty each client is unique and the price for scalp micropigmentation removal will vary depending on the number of sessions needed in order to correct your existing hair tattoo. This will be determined during your initial free-consultation so the specialist can assess your specific case.
Do you provide aftercare?
Yes. To ensure the highest quality of treatment is offered, a complimentary follow-up treatment is included. We want our clients to have the best result and so we make sure that you recover properly from the treatment.